Sponsored by the Roanoke Valley Amateur Radio Club
Talk-In on 146.985 Repeater -600 Hz Offset, Tone 107.2
Ham Radio, Electronics and Computer Parts
FREE Admission
FREE On-Site Parking
Air Conditioned Inside Exhibit Hall
Outside Tailgate/Flea Market Area
Laurel VEC Testing Session* 10:00 am - FREE
Outside Food and Snowcone Concession Stands
Door Prizes:
Yaesu FT7900R mobile
Yaesu FT2980R mobile
Yaesu FT60R HT
TYT MD-UV380 DMR HT w/microphone
Gift Certificate from RF Adapter Guy
ARRL Gift Certificates
Vendors:

Please visit our vendors and thank them for attending the Roanoke HamFest!

Exhibit Hall Tables/Vendor Liason - John W4AZT
HamFest Chairperson - Darrell KI4LLA

The Roanoke HamFun! is an ARRL-sanctioned event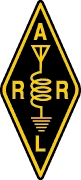 * To pre-register for the VEC Testing session, contact Ray Pillow, KK4HR.
NO pets, pornography or weapons